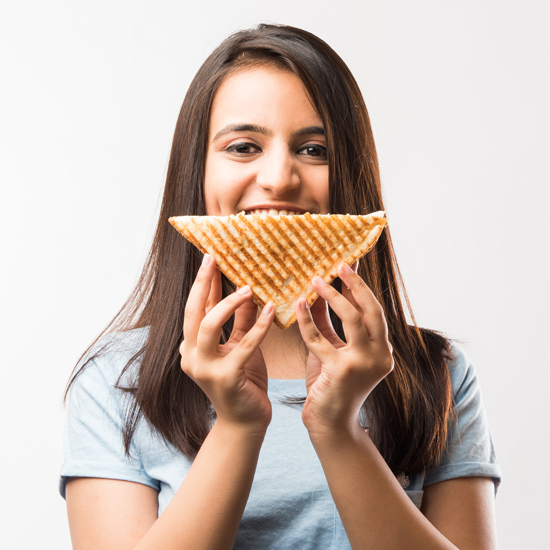 Grilled cheese sandwiches, with their gooey, melty cheese and crispy, buttery bread, are the ultimate comfort food. These humble creations have a rich history, dating back to ancient times, and have remained a beloved staple in households across the world.
While the Romans are credited with inventing something resembling grilled cheese – melted cheese on bread – and variations like the British toastie, Welsh rarebit and Croque Monsieur have found their way onto menus and mouths around the globe, the grilled cheese sandwich we know and love truly gained popularity in the US during the Great Depression and the advent of sliced bread and processed cheese.
There are really three ingredients to any amazing grilled cheese and those are, of course, the perfect cheese, the ideal bread and lots and lots of butter.
Say cheese
The choice of cheese is crucial to the success of any grilled cheese sandwich. While it's tempting to use whatever you have in the fridge, some cheeses work better than others. A combination of cheddar and mozzarella is a classic choice, similar to what you'd find in a traditional American grilled cheese. Cheddar offers sharpness and flavor, while mozzarella brings its incomparable meltiness. If you're feeling a little British, consider the Welsh rarebit, a delightful alternative made with a rich cheese sauce, Worcestershire sauce and mustard, poured over toasted bread.
Crunchy bread
Equally important is your choice of bread, whether you're making a classic grilled cheese or its French counterpart, the Croque Monsieur. A good sandwich calls for sturdy bread that can hold up to the heat without becoming soggy. Sourdough, ciabatta or rustic white bread are all excellent options. For added flavor, consider spreading a thin layer of garlic butter or mayo on the outside of the bread slices before grilling – it's a little-known trick that enhances both flavor and texture.
Shhhhh
To take your grilled cheese to the next level, consider adding a secret ingredient, like the Croque Monsieur's béchamel sauce. Thinly sliced green apples or caramelized onions can provide a sweet and savory contrast. Or even a sprinkle of Parmesan cheese on the outside of the sandwich for an extra crispy and savory crust.
What's your favorite take on grilled cheese? Let's talk about it — share your ideas and tips with the Shop Talk community!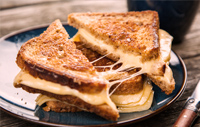 Did you know?
Everyone loves grilled cheese
Some 86% of Americans have eaten grilled cheese in the last year (and the remaining 14% are probably lying) – with 30% devouring the savory treat once a month. [Source]