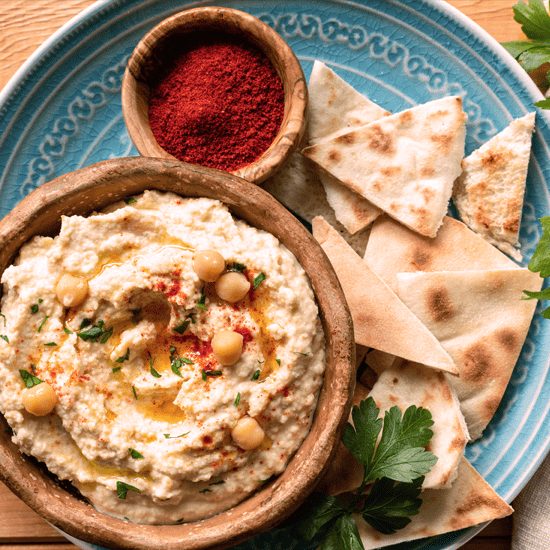 Last month we explored one our favorite healthy comfort foods around, guacamole. This month, we head on over to the eastern Mediterranean for another: hummus.
First, for your hummus to taste as authentic as possible you have to pronounce it the right way. 'Hummus' doesn't sound so much like 'hum and 'muss' stuck together, but more like 'hoom' and 'moss', with a little phlegmy 'h' sound at the start. (LOL)
Now that we've got that out of the way, the word hummus comes from the Arabic and literally means chickpeas. But the secret to the best hummus around is not in the chickpeas but in another, often forgotten or ignored ingredient: tahini, or sesame seed paste. In our view, the more tahini, the better.
Making authentic hummus requires eight ingredients:
1 30-oz can of chickpeas (also called garbanzo beans)
1/3 cup of chickpea liquid (which you'll drain from the can)*
½ cup (or more!) of tahini
¼ cup olive oil
Juice of 2 lemons
2 cloves of garlic
1 tsp cumin
Pinch of salt
*If rehydrating and cooking dried chickpeas, use the leftover cooking liquid.
Blend all the ingredients on high for about 30 seconds until the mixture is creamy. Add chickpea liquid as needed to make your hummus less creamy. Taste and adjust the seasoning to your taste. Serve in a bowl or plate with a drizzle of olive oil, parsley to garnish, and pita bread – and enjoy!
To store your hummus – assuming it lasts – it can keep in a sealed container for about a week.
Have you made hummus before? Do you add any other ingredients to make it your own? Share your ideas and thoughts with the Shop Talk blog community – we want to know!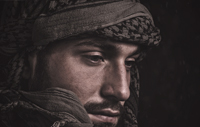 Did you know: Who invented hummus?
Turks, Syrians, Lebanese, Israelis, Palestinians and Egyptians all claim to have invented hummus – no one knows for sure, although it is mentioned in the Bible so we do know it's been around a long time! (Source)