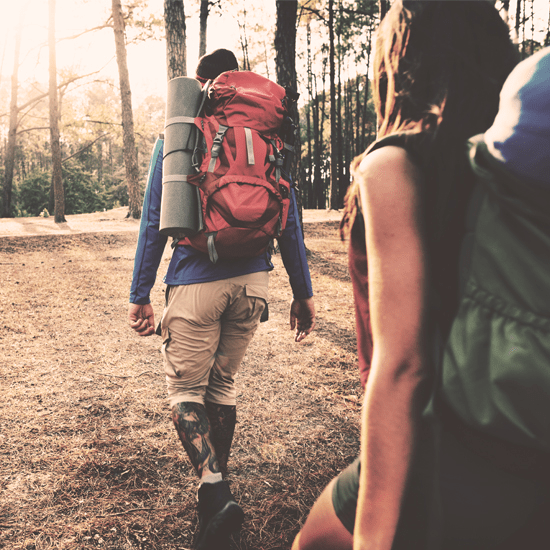 While some of us have ventured out over the last year to see family and friends, for millions of Americans, social distancing has meant a lot more time indoors with immediate family or alone. But, as the weather warms up, and COVID-19 numbers (hopefully) continue to drop, many are looking for ways to enjoy the weather — safely.
While many state and national parks may be closed or have restrictions on visits right now, camping, hiking and being outdoors is a great way to feel good — both physically and mentally. In fact, ecotherapy is increasingly popular as a way to reduce stress, depression and anxiety. And most Americans — 59% — rank camping (and especially glamping) the safest form of travel.
If you're thinking about spending more time enjoying the great outdoors, here are a few tips to do it as safely and as respectfully to others as possible:
1.     Stay close to home: If you don't have established camping or hiking locations nearby, err on the side of an alternative close to home instead of travelling hundreds of miles, where the risk of spreading COVID-19 to your community or others is increased.
2.     Avoid public amenities: It's easier to keep your distance in wide-open nature settings but don't forget to continue doing so when you cross paths with others and avoid using public amenities that other nature lovers may have used or touched. If you do, wear a mask, touch as little as possible and wash your hands. Keep a bottle of hand sanitizer with you.
3.     Keep your distance: If you're not able to physically distance properly, for instance on a crowded trail, don't take the risk: leave the park or find a trail with fewer people.
4.     Practice Leave No Trace principles. For instance, pack out toilet paper and hygiene products, deposit solid waste in catholes six to eight inches deep and away from water, camp and trails, and wash yourself or your dishes at least 200 feet away from streams and lakes.
As always, remember, stay home if you're experiencing any COVID-like symptoms or you've had contact with someone suspected or confirmed to have the coronavirus in the last 14 days.
Have you camped or hiked recently? We'd love to hear about your experience and your safety tips — share them with Shop Talk blog community members.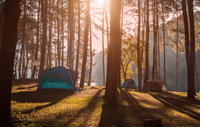 Did you know: Camping is gaining popularity
As Americans look for safe activities to experience, one-fourth of campers took their first camping trip during the pandemic. (Source)