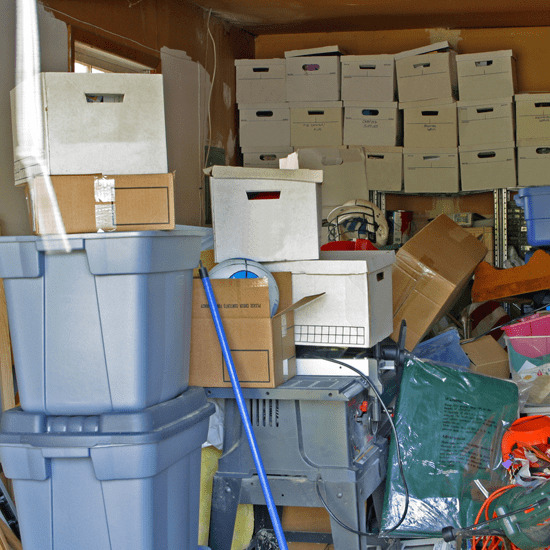 Consider these amazing facts:
There are 300,000 items in the average home.
One quarter of people with two-car garages don't have room to park their cars inside them.
The average 10-year-old has 238 toys but plays with just 12.
The average woman owns 30 outfits — a century ago that was just nine.
The message? Our homes are packed to the rafters with a whole lot of stuff! Yet most of us feel so overwhelmed at the prospect of tackling our bad case of clutteritis that we pretend the problem simply doesn't exist.
But, with a new year on its way, maybe it's time to clean up our mess. Right? Here are four simple ways to start decluttering right now:
Take 30: Attempting to declutter your entire home is too big a mountain to climb. Start in one place, like your bathroom, and dive in for 30 minutes. Pull everything out of your medicine cabinet and on to the counter, throw out any expired prescriptions, ditch almost empty bottles of moisturizer or perfume or any items you haven't used in over six months. Wipe down the empty cabinet and re-place your selected items. Sit on the floor, and repeat for the cabinet under the sink. There, that isn't so hard, is it? If you're excited and inspired, move on to the drawers or closet in your bedroom. Or tackle the pile of newspapers or magazines in the den. If you're exhausted, set a reminder for next week and take on one room or closet at a time.
Bag it and take 5: Grab two big trash bags and prowl around. Fill one with old newspapers and magazines, boxes and wrappers, used candles, orphan mitts and socks, and items that, let's face it, you're never going to use again. Fill the other with five toys your kids don't play with anymore, five articles of clothing you don't wear anymore, five books, CDs or DVDs you'll never read, listen to or watch anymore and bring this bag to Goodwill or any nearby charity that accepts used items.
Super bowl: No, this has nothing to do with men in helmets and tight pants. Set down a medium sized bowl wherever you enter your home and designate it as the receptacle for keys, sunglasses, gloves, wallets and loose change. Your days of dropping sundry items throughout the house are over!
Teachable moment: If you're a parent, enlist your kids. Instruct them to spot items of theirs scattered throughout the home — shoes, Game Boy or Nintendo, smartphone, books, clothing, half-eaten snacks, unidentifiable items — and take them to their rooms, or the kitchen or laundry, as the case may be. And warn them that, from now on, if it's not in their room within 24 hours it disappears forever!
What decluttering tips work best — or worst — for you? Please share your ideas in the Shop Talk Blog community forum!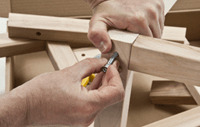 Did you know: The Ikea effect
Even as the price of furniture has dropped, we're spending more on more of it. Yet the rate at which we're throwing it out has risen only 1/13 as fast — in other words, we're just hoarding it. (Source)