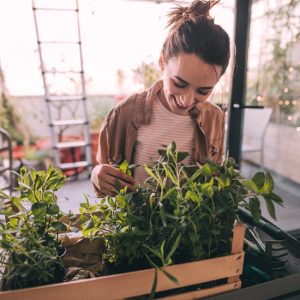 Amid the turmoil and tragedy of COVID-19, many Americans found solace in simpler things — long walks, mindfulness and meditation, and…. gardening.
Growing veggies at home isn't just a great stress reliever, it's been a great way to save money as produce prices rose in uncertain times.
Sun, soil, water, and attention
Not surprisingly, you'll need the right combination of sun, soil, and water depending on the types of plants you want to grow — so choose a sunny spot (in your backyard or windowsill) and one that drains well and doesn't stay too wet, buy the seeds of your choice and choose a fertilizer mix that's ideal for growing vegetables (your hardware store or gardening center should be able to help.)
What to plant?
Next, you'll want to choose the right plants for the time of year. Veggies like radishes, carrots, onions, garlic, potatoes, zucchini, and squash are usually best to plant early in the season.
Produce like lettuce, arugula and peas grow fast in lower light and can be ideal if you're starting your garden indoors.
If you've got a hankering for corn, it's usually best to wait until temperatures warm up — corn seeds don't fare well in cold soil.
You might also consider planting perennial plants that will offer up vegetables for many years to come, like asparagus, a variety of berries, as well as herbs like tarragon and rosemary. Just make sure to protect them against very cold temperatures.
Remember, growing a vegetable garden can take some time and patience to get right. Don't be discouraged. Overwatering is usually the biggest mistake green gardeners make, so start there.
For more vegetable garden ideas and inspiration, click here and here. 
Have you started a garden during the pandemic or are you planning to soon? Share what you know with the Shop Talk community.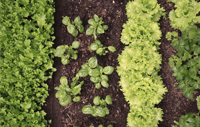 Did you know?
Stagger planting
Remember you probably don't want all your lettuce or cucumbers maturing at the same time, so it's a good idea to stagger your seed planting by a few weeks. (Source)