The summer movie blockbuster season is nearly here, which seems to us like a great time to evaluate the best films of the year so far. If you're itching to catch up on what everyone's been buzzing about – or discover a gem that audiences have inexplicably missed, here's where to start.
Velvet Buzzsaw: Netflix has been a roll recently with acclaimed hits like Roma and Birdbox. This year, the trend continues with Velvet Buzzsaw, an improbable blend of smart satire and chilling horror genres starring Jake Gyllenhaal and the always amazing Toni Collette. Watch the trailer.
Us: Jordan Peele's latest mix of creepy thriller, dark comedy and brilliant social commentary, Us doesn't work quite as well as the critically acclaimed Get Out, but it's still overflowing with clever dialogue, creative metaphors and over-the-top performances by Lupita Nyong'o and the Handmaid's Tale's Elisabeth Moss. Watch the trailer.
High Flying Bird: Another Netflix flick, from the acclaimed director of Sex, Lies and Videotape, Traffic and Erin Brockovich, Steven Soderbergh's latest is about race, politics and business in the NBA and was shot completely on an iPhone. Watch the trailer.
Dumbo: Tim Burton is back with a memorable live-action retelling of the classic tale of everyone's big-eared pachyderm. While this family film is getting mixed reviews from critics, it still offers Burton fans everything they've come to love about the acclaimed director's work. Watch the trailer.
 What are your favorite movies so far this year? Share your picks (and pans) with the Shop Talk blog forum now!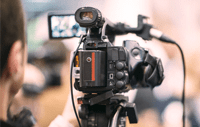 Did you know: Docs on the block
If documentaries are more your thing, check out Leaving Neverland, The Brink, Apollo 11 and Fyre.