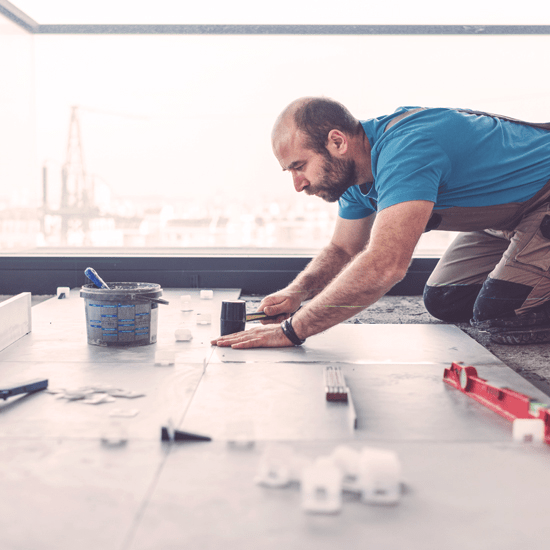 Home renovation projects are big across the country, with home improvement sales projected to total almost half a trillion dollars by 2022. And for good reason – renos not only make our homes nicer and more comfortable, they also increase their value when it comes to sell.
In this month's spotlight, we're taking a look at do-it-yourself tiling. Whether it's replacing a greasy old backsplash in your kitchen to updating your home's front entrance, new tiles can be a relatively quick, easy and inexpensive way to give heavily used areas of your home a facelift.
Here are a few important things to keep in mind before starting your DIY tiling project:
Are you experienced? If you don't have a lot of (or any) experience installing tiles, it's a good idea to start with a smaller project like your backsplash. Laying new floor or shower tiles poses bigger challenges and, if not done right, can cost you money and headaches in the future.
Measure your space – then remeasure it. Discovering you haven't bought enough tiles can be a big hassle – particularly if you've bought tiles on sale which may no longer be available if you have to head back to the store or supplier. Always round up the estimated square footage you'll need and add another 20% for cuts, breaks and mistakes.
Inspect the surface. You'll need to make sure whatever you're applying the tiles to is level, sturdy and tile-friendly – like plywood, concrete or drywall. If it's not, you'll have to level or repair the surface, or find an expert who knows how.
Decide if you need an expert. If you've never done it before, if it's a big space or if the surface isn't conventional, it may be worth your time and budget to hire a contractor. If you do, always get two to three estimates and references before you start any project.
Choose an interesting design. The variety of shapes, textures, patterns and hues in tiles has exploded in recent years enabling you to inject visual excitement to whichever room you're tiling. Here are a few design ideas.
If you're gung-ho and ready to go, here, here and here are a few great places to help you get started.
Do you have experience installing tiles? What tips and tricks can you share with the Shop Talk blog community forum? Let them know!
Did you know? This sucks!
One of the most useful tools for tiling is a suction cup handle – it can help you lift a sunken tile or adjust a crooked one. If you can't find one at your home center, try online. (Source)