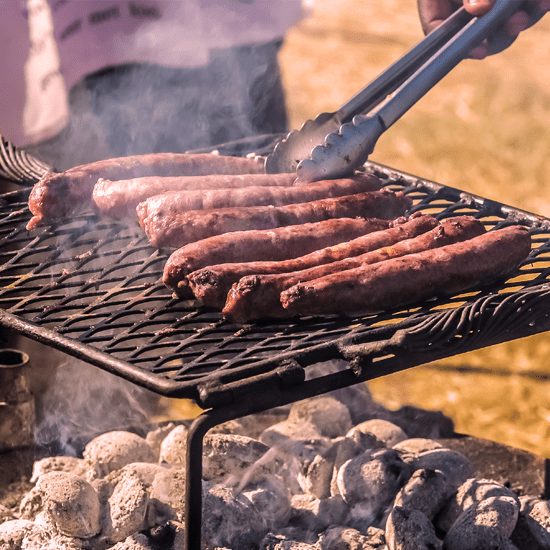 With 11 official languages, five recognized racial groups and a history heavily influenced by Bantu-speaking peoples, Portuguese explorers, and Dutch and British colonialists as well other countries sharing the rim of the Indian Ocean, it's no surprise that South African cuisine is so diverse.
Cooking in the southernmost country in Africa is heavily meat-based and, like the US and Brazil, barbecues are popular. In fact, South Africans have made the braai (barbecue) a social gathering all their own.
If you're lucky enough to have a South African eatery near you – or you're keen to try your hand at cooking, here are some of our favorite dishes:
Boerewors – or farmer sausage – is a traditional thick beef sausage, often mixed with pork or lamb and local spices then cooked on a braai.
Biltong – strips of dried and spiced beef, antelope or ostrich that you're sure to easily find in Cape Town or Johannesburg but probably not in Provincetown or Pittsburgh!
Chakalaka – also called Soweto chili – is a popular vegetable dish, served hot or cold, made from onions, tomatoes, carrots, beans, chili peppers and spices.
Amagwinya – also called vetkoek – is a fried ball of dough filled with savory deliciousness like sausage, apricot jam or grated cheese.
Pap – which literally means porridge – is a starchy side dish similar to grits and made from white corn.
Cape Malay curry – also known as bobotie. When Europeans landed in South Africa in the 17th century they brought slaves from India and what would become Indonesia and Malaysia. The slaves introduced their traditional cooking methods and ingredients, including saffron, cinnamon and chili, which form the basis of this fragrant and flavorful dish.
Bunny chow – think sub with curry, it's basically a hollowed-out loaf of bread filled with curry. It originated on South Africa's east coast and heavily influenced by the large Indian population there. Try this recipe.
Malva pudding – a sweet spongy caramelized pudding that usually contains apricot jam and is covered with a cream sauce, custard and ice cream.
Which South African dish has your mouth watering? You can choose more than one! Visit the Shop Talk blog forum now and share your questions, experiences and ideas with the community!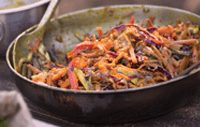 Did you know: Braai Day
South Africans are so passionate about their barbecue that September 24 is officially National Braai Day, when every citizen is encouraged to get out and braai.