Winter, as we all know, is coming. Whether it's snow or freezing rain, cold seeping in through the roof and windows, or furnaces chugging along on overtime, in most parts of the country this season will certainly take its toll on our homes.
Here are 5 simple ways to stay more comfortable through the worst of it:
Let's caulk: It's estimated that sealing those little cracks around the windows or doors can save you about of third of the energy you currently use throughout the year. That could mean big savings. But don't just stop at windows and doors. Often overlooked are the chimney shaft, recessed lighting, ducts and the garage.
Double door it: If your front or back doors provide an uneven seal when they're closed, they may be letting a lot of warm air out and cold air in. A storm door can add an additional barrier and boost your home's energy efficiency.
A thermostat, stat: Reducing the temperature in your home before bed is a smart way to reduce your energy bill by 10% a year but many of us simply forget to do it on a regular basis. A programmable or smart thermostat can get the job done, even when you don't.
Spin round: If you use ceiling fans in summer, remember you need to change their direction in winter. While a counter-clockwise spin keeps your home cool when the weather is warm, a clockwise rotation pushes rising warm air down to keep you more comfortable when it's chilly.
Furnace finished? Replacing your heating system may be too costly if you're on a strict budget but it's worth investigating your options, particularly if your furnace is old. If you've noticed it taking longer than it used to for your system to comfortably heat your home or your energy bills keep rising, it may be time to contact an HVAC specialist. Many offer lease or rental plans for budget-conscious consumers.
How do you winterize your home? Share your tips and ideas in the Shop Talk blog community forum!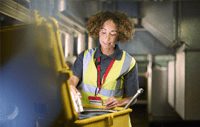 Did you know? A home energy audit can help you save
An audit can tell you where you're losing energy and offer ways to save energy and money. Ask your local HVAC professionals if they offer this service. (Source)